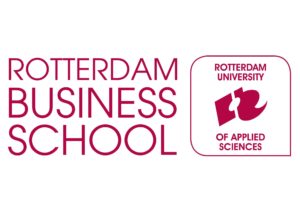 Rotterdam Business School
Home to the largest port in Europe, Rotterdam is truly a business-oriented city with global trade and transport links. At Rotterdam Business School, we aim to embody that business spirit by offering fully English-taught bachelor and master programmes with international internships included in the curriculum.
33% of students at Rotterdam Business School are non-Dutch, making for a very international atmosphere. Teachers and staff are also from a diverse and international background, making sure that students learn to understand different perspectives when it comes to academic and student life.
Because internships are a mandatory part of the programme, students learn not just from theory but also from the international business practice. With partner universities and companies all over the world, you have a wide range of possibilities.
Rotterdam Business School is part of the Rotterdam University of Applied Sciences, with a total student body of 30,000 students. All programmes of RBS and RUAS are accredited by the Dutch-Flemish Accreditation Organization (NVAO
Full Degree Programs
• Bachelor of International Business & Management Studies
• Bachelor of International Business & Languages
• Bachelor of Trade Management for Asia
• Master of Finance & Accounting
• Master of Logistics Management
• Master of Consultancy & Entrepreneurship
Exchange programmes
RBS also accepts free-moving exchange students; students who are currently studying at a non-partner university and would like to spend a semester at RBS. Students who fall under this category may join as a free-moving exchange student.The following exchange programmes are offered:
• Art programmes (Willem de Kooning Academie)
• Civil Engineering
• Designful Innovation for one billion people (Multimedia Design)
• Human Talent Development
• Informatics (Big Open Data)
• International Cooperation & Sustainable Development
• Logistics & Economics
• Logistics & Transport Management
• Managing the Rotterdam Metropolitan Region
• Technology Management
• Trade Management for AsiaBachelor Semester Programmes Non-Partner Universities