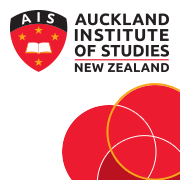 Inglés en Auckland Institute of Studies
Fundada en 1990, Auckland Institute of Studies, es una de las instituciones independientes  más grandes de Nueva Zelanda que otorga títulos de grado. Los estudiantes se beneficiarán de una amplia gama de calificaciones aprobadas por NZQA, incluyendo diplomas y programas de grado en negocios, administración de turismo, administración de hospitalidad, tecnología de la información (TI), administración de empresas e idioma inglés.
Su sistema flexible de tres semestres y reconocimiento de crédito cruzado le permite acelerar sus estudios y obtener una ventaja en su carrera. Un ambiente amistoso y estimulante equilibra y apoya sus rigurosos programas académicos. En AIS, los estudiantes experimentarán educación personalizada en clases pequeñas. Ya sea un estudiante local o del extranjero, recibirá todo lo que necesita para sentirse cómodo y seguro mientras estudia con AIS, asegurándole de que estará bien equipado para tener éxito una vez que complete su calificación.